---
---
The compact Garmin Edge 530 GPS Cycle Computer Performance bundle is packed full of features (yet easy to use) for use on or off-road. In addition to the head unit, you'll also receive a heart rate monitor, along with cadence and speed sensors.

GET INSIGHTS TO IMPROVE

Who cares that the Edge 530 cycling computer offers dynamic performance monitoring and insights to help you improve?
You do.


Roll like you know every hill and curve. Plus, find the routes the locals hit most.


Get lost in your ride knowing Edge will always get you back. No backseat rider needed.


Perform your very best, then beat it. Compare recent efforts to previous rides.


Finally, a coach who doesn't yell. Sync structured workouts right to your Edge.


See your stats. All of them. Track more performance metrics than ever before.


The longer the ride, the better. Get up to 20 hours of riding before you need to recharge.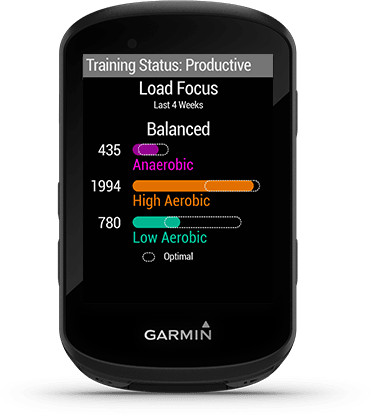 DYNAMIC PERFORMANCE MONITORING
Get more insight about how your body is responding to training. Track VO2 max, recovery time, training load, training load focus and more.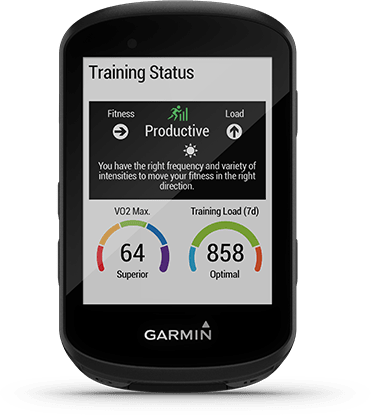 TRAINING STATUS
How effective is your training? Automatically evaluate your recent exercise history and performance indicators to see if you're training productively, peaking or overreaching.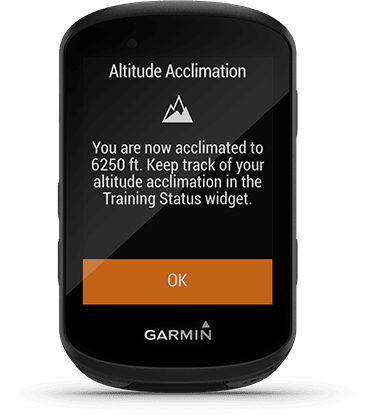 HEAT AND ALTITUDE ACCLIMATION
Prepare yourself for any environment. See how your body is holding up in different environments with heat and altitude acclimation1.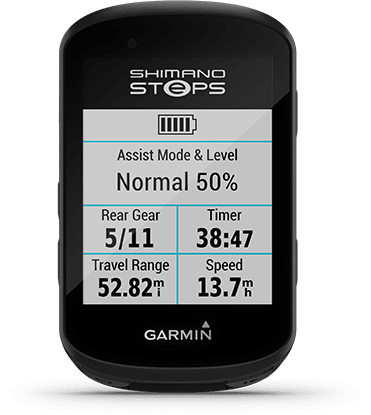 SHIMANO STEPS EBIKE SYSTEM COMPATIBLE
View a dedicated eBike status screen, data fields and support for system status and warning messages. Even see assist level, gear position, battery life and more during a ride.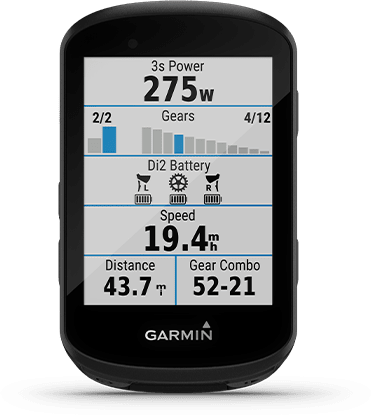 DI2 COMPATIBLE
This Edge device is compatible with SHIMANO Di2 electronic shifting systems4, which now offer wireless connectivity for fast, automatic setup and display/recording of shift data for gear systems of up to 12 speeds. View front and rear gear data as well as battery status for your left and right shifters.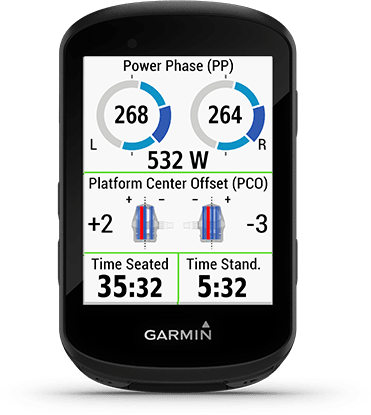 CYCLING DYNAMICS
Take advantage of advanced metrics designed to give insight into how your performance changes based on variable conditions such as position, bike setup, ride duration and more.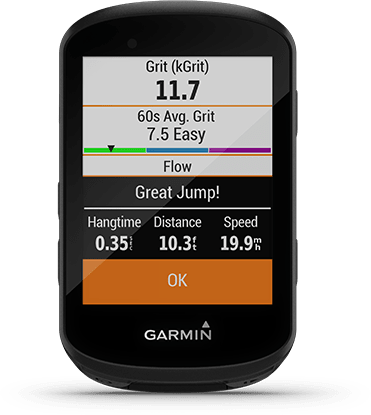 MTB DYNAMICS
Track the epic details of every ride with new mountain biking metrics such as jump count, jump distance and hang time.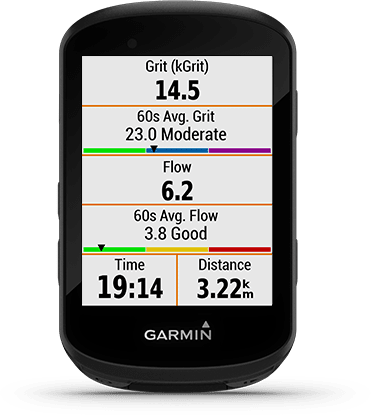 GRIT™
 

AND FLOW™

Grit rates the difficulty of a ride using GPS, elevation and other data. Flow measures how smoothly you descend a trail so you have a score to beat next time.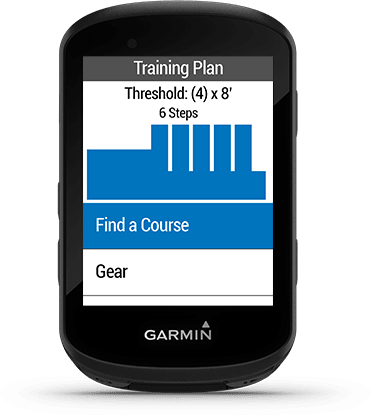 ADVANCED WORKOUTS
Sync workouts from TrainingPeaks® and our online community, Garmin Connect™, right to your Edge device. View your upcoming training, and launch into the relevant workout seamlessly.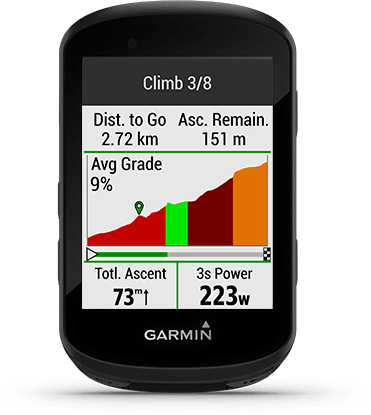 CLIMBPRO FEATURE
Automatically see the remaining ascent and grade when you're climbing while following a route or course. This helps you gauge your effort and see how much you have left to suffer.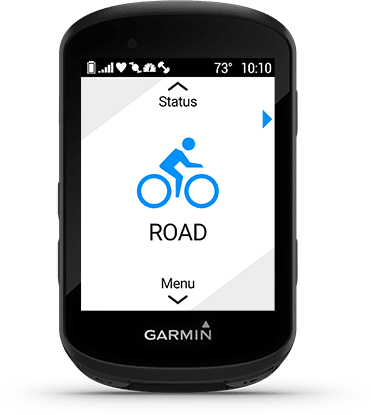 EXTENDED BATTERY LIFE
Edge 530 will get up to 20 hours of battery life while using GPS and up to 40 hours when used with the optional Garmin Charge™ power pack or in battery saver mode.
Garmin's Edge 530 GPS cyclecomputer performance bundle offers premium performance monitoring and insights to help improve your cycling performance. The cycle computer shows how heat and altitude affect your performance and how many meters are left in an intense climb. The computer also now metrics that track your jumps with jump count, jump distance and hang time. Improved navigation systems allow you to ride like a local with on- and off-road maps and route recalculation. Additional safety features also give you peace of mind and access to the Connect IQ Store allow you to connect to your favourite training apps.
Performance Bundle
Get the performance metrics you need straight to your computer screen with the Performance Bundle which includes heart rate monitor, speed and cadence sensors. These directly link to the Edge 530 and helps give you insight into every area of your life.
Training
Garmin's Edge 530 provides dynamic performance insights that can push you to the next level in your training. With heat and altitude acclimation you can see the effect your riding environment has on your body. In-ride notifications use your data to let you know when it's time to hydrate and eat. You can see if your recent training was balanced in terms of endurance, threshold and high-intensity efforts. You can also pair the Edge 530 to various additional sensors for in further data collection that can be displayed straight onto the computer. Pair your computer to your smartphone to create your own structured workouts with TrainingPeaks and share your results via the Garmin Connect app.
Safety
Keep safe and give your friends and family peace of mind with all new safety features. You can group message and track with other riders which allows you to stay in contact when you get separated from the pack. Incident detection will automatically send your location to your pre-set emergency contacts. A new PIN-protected bike alarm can be set up to notify you on your smartphone if your bike is moved while you're elsewhere.
Navigation
Preloaded with the Garmin Cycle Map the Edge 530 includes turn-by-turn directions and navigation alerts that notify you of upcoming turns. Popularity routing helps you to ride like a local showing you the roads and trails most travelled by fellow cyclists.
Trails
The Edge 530 isn't just for road riders and it lets you take things off the beaten path. The Trailforks app from the Connect IQ Store and then unlock the Trailforks map content on the Edge. The app allows you to access maps from more than 80 countries includes the best, most up-to-date information, including trail conditions, heatmaps and more. The computer also comes with new mountain biking metrics such as jump count, jump distance and hang time. GRIT rates the difficulty of ride using GPS, elevation and accelerometer data. Meanwhile, FLOW measures how smoothly descend a trail so you have a score to beat during your next trail ride.
ClimbPro
The new ClimbPro feature automatically shows the remaining ascent and grade when you're climbing while following a route or course. This shows you how much longer you have left to suffer, helping you gauge your effort over the remainder of your ride.
Customisable
Fully customisable the computer comes with free apps, widgets and data fields from the Conenct IQ Store that you can swap and change, in and out.
Specifications
Display size: 2.6'' colour
Display Resolution: 246 x 322 pixels
Battery: Rechargeable lithium-ion
Battery life: 20 hours
Water rating: IPX7
History: Up to 200 hours
Weighs: 75.8g
Dimensions: 50mm x 82mm x 20mm
In the Box
Edge 530 cycle computer
Flush out-front mount
Standard mount
Speed sensor
Cadence sensor
Heart rate monitor
Tether
USB cable
Manuals
---