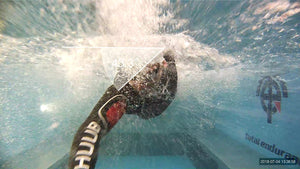 Getting the right size wetsuit
Whether you are new to open water swimming / triathlon or have been doing it for years, having the right size suit for you will always be advantageous.
Wetsuit sizing is one of the hardest but most crucial parts of selecting the best wetsuit.  Often the size guides don't help as the more flexible wetsuits have significantly more 'stretch' which can often mean you will need the size down.  Whereas wetsuits with less flexibility tend to come up slightly smaller.
For this reason, we advise trying on a range of different wetsuits in different sizes.
We have lost count of how many athletes we have seen at races in a wetsuit that doesn't fit them correctly.  All your hard training can be undone but having a wetsuit that it is too big and will cause an increase in drag as you swim. Not to mention affect your ability to keep warm.
Wetsuits are designed to keep you warm by trapping a thin layer of water between the neoprene and your body.  This can only happen when the suit has a good seal around the neck, wrist and ankles.  If the suit doesn't seal in these areas, it will constantly take in more cold water resulting in you not being able to stay warm when in the water.
When trying on wetsuits, it shouldn't go on easily and should take a bit of work to get into the suit.  The mistake many swimmers make is the suit will usually feel quite tight and you may think it is too small and want to opt for the next size up. 
Get in touch to make an appointment to find the best fitting wetsuit.
---