Total endurance Services
Swim Coaching and Video Analysis
Run Gait Analysis
We have two types of run gait analysis options.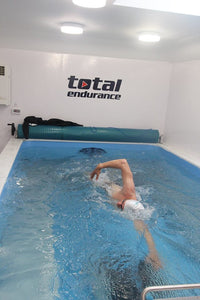 Total Endurance
Welcome to Total Endurance, your premier destination for all things related to Swim, Bike, Run, and Multisport training in Aberdeen. Our expert team is dedicated to providing you with top-notch coaching, technique analysis, and fitness testing to help you achieve your athletic goals.
We offer state-of-the-art facilities including an Elite Endless pool, VO2 Max testing, Retail Support, Sport Massage, and Bike Maintenance services. Our team consists of professional coaches, athletes, and a bike mechanic, all of whom are committed to providing you with the best possible support to help you realize your full potential.
Whether you're a seasoned athlete or just starting out, we have everything you need to take your training to the next level. Join us at Total Endurance and discover how we can help you reach your fitness and athletic goals.

Total Endurance Sports Therapy
Total Endurance Sports Therapy offers a wide range of services that cater to athletes and individuals who want to improve their physical health and performance. These services include physiotherapy, sports massage, and injury treatment options. Their physiotherapy services are designed to address various musculoskeletal and neurological conditions, including sports-related injuries. They use evidence-based techniques such as manual therapy, exercise prescription, and rehabilitation to help individuals recover from injuries and improve their overall function.
Total Endurance Sports Therapy also provides sports massage services that focus on improving flexibility, reducing muscle tension, and enhancing recovery. Their injury treatment options aim to identify the root cause of the injury and provide targeted treatment to alleviate pain and promote healing.
Moreover, Total Endurance Sports Therapy has links with the Total Endurance coaching team, providing athletes with access to a holistic approach to performance improvement. By combining their physiotherapy services with Total Endurance coaching, athletes can receive personalized training programs and comprehensive support for optimal performance.
head over to their website for more information: