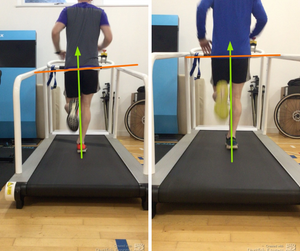 Are you running in the right shoes?
A recent customer in the shop returning from a run-related injury. The customer was complaining of more issues running in his 'race shoe' against his 'easy run shoe'. What you are seeing in the screenshot is a difference in the level of support of the shoe.
Both are classed as neutral running shoes but you can start to see a difference in the level of pronation and a slight difference in his hip alignment. The shoe on the right is offering a lot more structure, a wider platform, and cushioning.
The race shoe has a lightweight upper, lower stack/cushioning but sacrifices support. This is all in the aid of making the shoe light and responsive for racing.
With the customer recently returning to running it would be advisable to stick to the more supportive shoe until the customer has gained the additional strength required for the lightweight racing shoe.
---