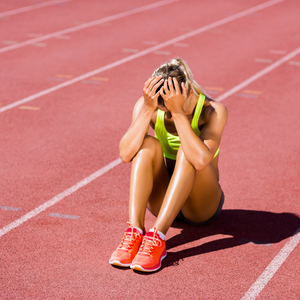 Bouncing back from setbacks!
With more events being able to run it has been great to see our athletes getting back on the start line and putting the last 18 months of work into action. 
We are always more than keen to share the success of our athletes and like most of us on social media we tend to only show when things go to plan and when athletes reach the finish line and we can be guilty of not sharing the times when things don't go to plan, athletes who didn't finish, athletes who weren't able to make the start line or even the disappointment when events don't go ahead.
This blog is all about dealing with when your race doesn't go to plan and what you can do to bounce back after a disappointment. 
We take great pride in all our athletes performances whether that be winning a race or just getting to the finish line of their first event occasionally things don't go to plan. Just the other week one of our athletes unfortunately had to withdraw from their main race of the year after struggling on the bike and starting to feel sick 30km in and got off the bike feeling dizzy and ending up in the medical tent and had to stop the race in transition.  It goes without saying that this athlete was gutted and not the plan we had going into the event but the reality is that these things happen and trying to identify what caused it so we can put processes in place to reduce the likelihood of it happening again. 
We also had an athlete who had to withdraw from a race a few days before the event due to becoming infected with Covid 10 days previously which left them feeling exhausted and unable to recover in time and risking long term health for one event wouldn't have been wise.  This athlete was also upset and frustrated as they had committed to months of training and was ready to go after their goals but not even getting to the start line can leave you emotionally drained and annoyed.
We've also recently had athletes whose events have been cancelled (again) due to ongoing restrictions where their events were meant to take place, this also can leave us frustrated as for some, an event they have been training for 2+ years gets moved to another year down the road and has definitely left athletes feeling like we've put all this work in for nothing.
All of these things can play havoc with our motivation and leave us feeling like we've failed and we've wasted months of hard work to not get the outcome we had targeted.  Maybe we should move on from the goal and try something else is often one of the ways athletes will begin thinking in this situation.
When working with athletes the main things we focus on, is the process of training consistently and building the ability to get better day by day, week by week, month by month and year by year.  The process is what allows us to see progress over time and being consistent with the training is usually harder than the actual event.  If you've trained well and done the best you can to juggle the training around your work, family and other life requirements then you have been successful as this is not an easy thing to do and we can often overlook this fact and only tend to define success or failure based on what happens at an event on one day.
To achieve success in any area of our life we will often have to fail our way there.  We all need to be willing to fail but never be content with failure and if we come back stronger after every set back we will take the next step closer towards out goal.
Failure or failing to hit our desired outcome(s) does not define who we are but our ability to get up after every set back, every failure, every disappointment will define us and every time we become more resilient, more determined and even better prepared to look failure in the eyes and say 'you will not stop me'!  
Our dreams and goals are too important to stop progressing towards them because of a set back.  If you've failed at something allow yourself some time to be upset and reflect on what the set back can teach you but don't ever allow it to define you and take that pain of disappoint and turn it into motivation to get back up and try again and again and again until your dreams become reality!
---