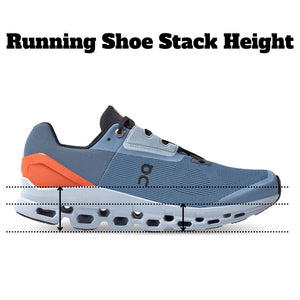 Running Shoe Stack Height
One factor to consider when choosing a running shoe is the stack height.
The underfoot experience will change by the amount of material between you and the ground, which is referred to as stack height. Generally speaking, lower stack heights deliver more feel for the ground and higher stack height shoes deliver more feel for the cushioning materials of the shoe.
Although, factors such as flexbility, weight of the runner, softness of the shoe, speed, distance and running style will influence the underfoot experience.
Stack height is the main aspect in perceived cushioning.
Shoes with a lower stack height have the tendency to offer a stiffer and more responsive ride in comparison to a higher stacked shoe that will tend to be softer and more compliant.
There is both positive and negatives for both types of shoes and which option you choose will be unique and individual to your needs.
But the most general and simple way to break it down is:
If you are feeling beat up, move up a stack height.
Need more speed? Try moving down a stack height.
---